Advantages:
Important advantages:
Reduces or eliminates treatments using insecticide, reducing the level of residues on fruit.
Better selectivity than insecticides, thus preserving fauna beneficial to crops.
High on site persistence as a result of the capacity of the Bactrocera Conetrap attractant
Reduces placement costs (removing from box and hanging). Furthermore, due to its persistence, it does not require any form of maintenance throughout the year.
No handling of attractant and insecticide required.
Very efficient for continuously cultivated olive crops.
Trapping during periods of the year when no chemical treatments are performed, contributing to a reduction in the level of the general population.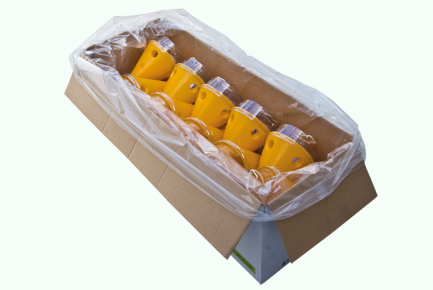 Components and supply:
Use and placement:
For the placement of the Bactrocera Conetrap, it is recommended to use a variable trap density depending on the continuous surface area of the crop where the system is to be used.

2-10 ha ….35-50 traps/ha. ..
10-200 ha…. 20-35 traps/ha.
>200 ha……10-20 traps/ha.

Place the the pack on site during June or July.
Hang on olive tree at a medium height on the southeast side, where there are plenty of leaves so that the trap can be partially hidden among them.
Fasten the fly trap cover when it has been passed over the branch.
Monitor the flight of the fly at some of the traps to evaluate whether further treatment will be required in September and October.
Leave the fly traps on site until the following year. Although trapping levels may be lower than the previous year, the performance does not drop completely.
The fly trap is sold in boxes of 50 units
In the case of any queries, contact the technicians at PROBODELT.