Features:
Classic trap, funnel-like, made up of four parts:
a) the upper cover, which prevents water from coming into the trap. It includes a holder to place the basket with the pheromone:
b) the funnel, whose design makes it easy for the moth to come in while preventing them from escaping;
c) the container where the captured insects fall. It also has an anchorage for the basket with the pheromone;
d) the basquet with the pheromone, which can be held inside the container or at the bottom of the cover.
It is normally supplied with the green cover, the yellow funnel and the white container.
Anchoring systems:
We have two anchoring systems for the trap:
TREE (code 0062): It supplies with a holder which allows hanging the trap from different diameter branches.
GROUND (code 0173): It supplies with a holder designed for the trap to remain fixed to the ground by a mast of PVC or bamboo cane.
GROUND SUPPORT types are:
The support of PVC, more durable, is supplied for heights of 50 cm (code 0175) and 100 cm (code 0176).
The support of bamboo cane, cheaper and lighter, is supplied for heights of 60 cm (code 0177), 90 cm (code 0178) and 150 cm (code 0179).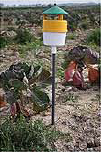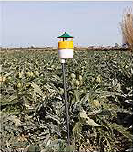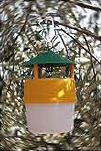 Use:
Especially appropriate for monitoring and mass trapping of a great variety of lepidoptera: Euzophera, Thaumetopoea pityocampa, Lobesia, Cydia, Plutella, Gortyna, Plodia, … depending on the pheromone or attractant used.
Density of traps for mass trapping:
Variable according to species and crop.
Supply:
10 or 20-unit boxes.